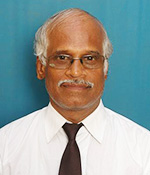 Venkatraman Rajendran
Chairman of Digital Security Association of India
Secretary – Melvis Jones Lions Memorial Trust, Kovilambakkam
Formerly Treasurer, Digital Journalists Association of India
Formerly Editor – PreSense, India's pioneering monthly e-magazine
About
Cyber Law Consultant offering consultancy on I.T. Act and Information Systems Security Good exposure in Banking Law and Practice, Information Technology Law and Management Handled many cases involving cyber crimes in electronic delivery channels in Banks like ATM's, Credit/Debit Cards, e-Banking etc.
Addressed various seminars and workshop and contributed articles on these issues.
Basically a Post Graduate in Commerce and Hindi Literature from Sri Venkateswara University, Tirupati; C.A.I.I.B. from the Indian Institute of Banking and Finance, Mumbai and B.L. from Madras Law College (Evening). Passionate about knowing about cybercrime, joined a Diploma Course in Information Technology Law and Management conducted by S.I.S.I. Govt of India. Completed Certificate Course in Information System Banker and Diploma in Banking Technology conducted by Indian Institute of Bankers, Mumbai. Passed a Cyber Crime Investigator Test conducted by IDRBT in association with Directorate of Forensic Sciences, Ministry of Home Affairs, Govt of India. Passed CISP of STQC Dept of I.T. Ministry of I.T. Govt of India. Lead Auditor in ISO 9001:2000 standards and in ISO 27001 ISMS. Completed a Certificate Course on Data Privacy (first batch) conducted by Naavi.org in 2020.
Career
Rajendran is an M.A. B.L. M.Com with CAIIB. A certified cyber forensic examiner from IDRBT, Hyderabad and a CeISB from Indian Institute of Banking and Finance (IIBF), CISP from STQC, Govt of India, a Diploma holder in IT Law and a lead auditor in ISMS (ISO 27001). Joined Indian Overseas Bank in 1977 and worked for over three decades in the bank in different capacities as officer in New Delhi branches and later as branch manager in rural branches in Tamil Nadu, credit officer and then for almost 15 years, in Technology and Info System Security related areas in the Computer Policy and Planning Department of IOB in its central office in Chennai.  Was instrumental in drafting the Information Systems Security Policy of the bank in 2006-07 and in establishing the department exclusively for information security related areas.  Also contributed to a major extent in the ISO implementation of processes and procedures and in drafting the IS Audit Policy of the bank.
After quitting the bank in 2008, started practice as an advocate mainly handling cyber-crime and banking technology, security related cases and as a consultant in ISMS and related areas.  Has conducted ISMS audit in banks and other institutions including IT companies and taken up assignments like drafting the ISMS Policy and assessing the implementation suggesting ways to improve upon the same in conformance with ISO 27001 and other data privacy or IT Law related compliance.
Other Interests
Has contributed articles in various academic and professional journals and appeared in electronic and print media. Has authored the book on "IT Security" for bankers and "Cyber Crimes and Fraud Management in Banks" both for Indian Institute of Banking and Finance Mumbai, and published by Taxmann and Macmillan respectively.  
An invited speaker in many leading training institutions including the Tamil Nadu Police Academy, staff training institutes of banks including the Reserve Bank of India and industry bodies like CII,  FICCI, ISACA etc. various colleges and Universities. Board of Studies Member in autonomous colleges and Universities on syllabus covering electives, certificate courses and diplomas on Information Security, Cyber Laws, Cyber Forensics etc.  Past President of Cyber Society of India and currently Chairman of Digital Security Association of India, an NGO engaged in spreading awareness on the safe and secure of computers and the internet.
Under Events Participated, these should be in the top.  I have kept them in the chronological order i.e. date wise with the latest on top Article appeared in the Tamil magazine "Vijayabharatham" issue date 16-7-2021 on "Digital India and Information Security" Participated in the Sun News debate on 6 July 2021 on the topic of "Freedom of Expression in the digital space".  Expressed the view that freedom of speech in India is always subject to reasonable restrictions and is not an unfettered one, as per various court verdicts including the apex court in India.