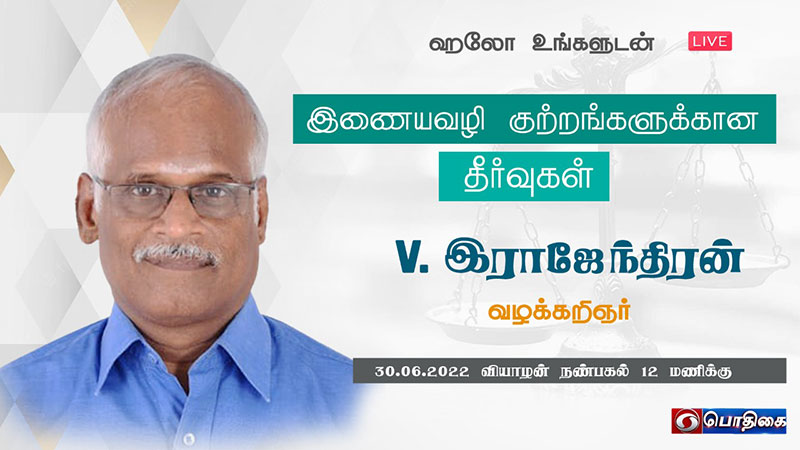 Interview appeared in Doordarshan Pothigai Channel from 12 noon to 1 PM on 30 June 2022 on the topic "Cyber Crime: Remedies and Solutions".
Read more..
Addressed the DiSAI Seminar in association with MMA on 23 May 2022 on "Recent Trends in Cyber Crimes".
Read more..
"Addressed the National Seminar on 'Emerging Trends in Cyber Crimes and Cyber Security" organized by D.G. Vaishnav Vollege, Arumbakkam, Chennai on 12 May 2022, handling a session on Cyber Laws and IT related legislations in India.
Participated in the Webinar on "Digital Security: the National Perspective" along with Dr Subramanian Swamy on 3 june 2021.
Please click this link
Digital Security Association of India Webinar on "Security of Women in the Digital Space" – Key Note Speaker Dr M. Ravi, I.P.S., A.D.G.P. at 4.30 PM o 11 Jan 2021.
Click here for the complete recording
Digital Security Association of India Webinar on "Mobile Security" – Key Note Speaker Shri Sai Satheesh, CEO, India Servers, at 5 PM 30 Nov 2020
Please click the link for recording of the event
Digital Security Association of India Webinar on "Cyber Crime: Grievance Redress, Investigation and Stylometry Analysis" on 29 August, 2020 at 6 PM.
Click here for the proceedings
My views on Censorship for "Youtube and other social networking sites" published in the "Tamil Hindu" Online edition.
Click here for the story
Participated in the Breakfast show "Inraiya Seithi" in News7 Tamil Channel, in the panel discussion on the topic "Control and regulatory mechanism for Youtube channels in India".
Click here for the link